So I'm writing this post as I'm in the middle of a 3 week Daniel fast / juice fast / herbal detox. Today marks Day 1 of our three day raw fruits & veggies / juice fast portion. And while I'm doing well and loving all the fresh juice made from my brand new Champion juicer (!), suffice it to say, I'm definitely looking forward to this gem of a dish in three days time. With all the BarreAmped classes I teach – Bring. On. The. Protein. Can I get an Amen??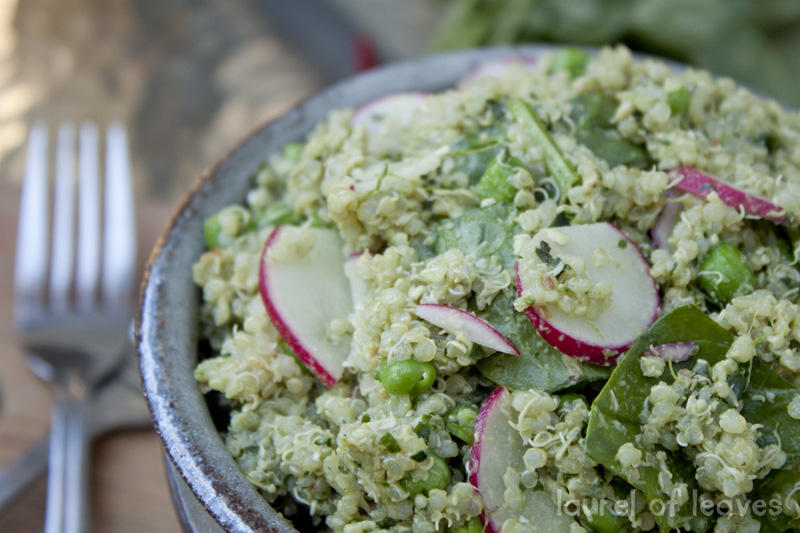 Thankfully, I've had a few days off from teaching, so I'm able to rest and recharge with this detox. I'm using Nature Sunshine's Clean Start herbal detox protocol and following a Daniel fast-esque diet. More details and a full detox plan coming soon!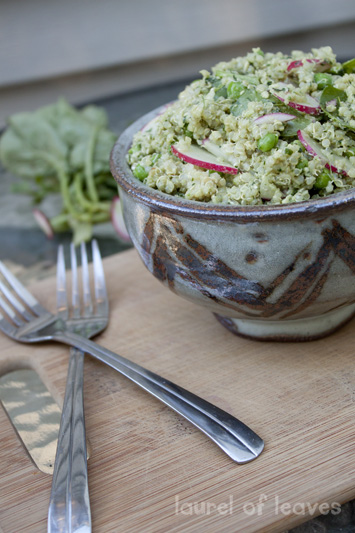 For now, just get more greens in your life! The spinach, peas, and radishes in this recipe pack a powerful nutritional punch and the quinoa and peas are full of great protein. As are the walnuts, and they also offer a nice dose of omega-3 fatty acids to balance your hormones, protect your heart, and lubricate your joints. The garlic in the pesto is a major immune booster, a natural anti-viral, and a natural anti-fungal. Sorry Chick-fil-A, I say eat more garlic!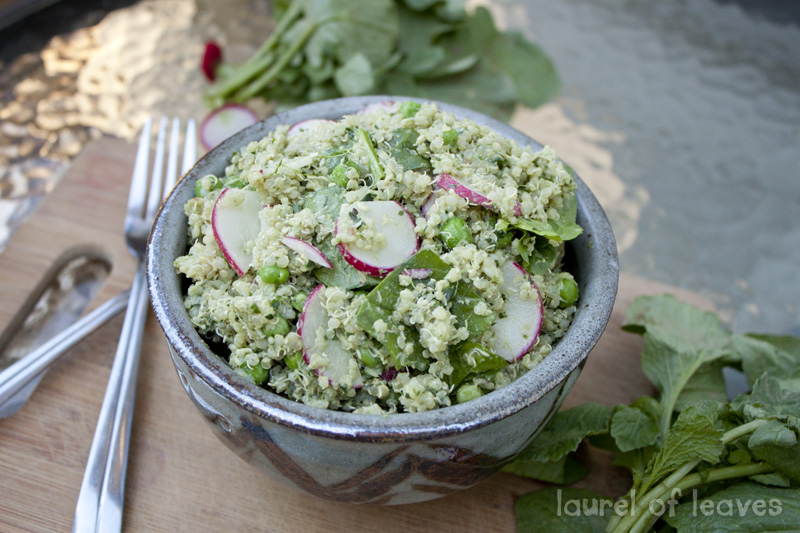 Git 'er dun. It's tasty. I promise.
Spinach Pesto Quinoa Salad
Ingredients
1 c. uncooked quinoa
2 c. chicken or vegetable broth
1/2 package frozen peas OR 1/4 lb. fresh snow peas, ends trimmed and sliced into 1/2-inch pieces
1 bunch radishes, thinly sliced

Spinach Pesto:

2 1/2 c. baby spinach packed, divided
1/2 c. raw or lightly toasted walnuts
2-3 cloves garlic
juice and zest of one small lemon
sea salt to taste
1/4 c. olive oil
Instructions
Rinse the quinoa in a fine mesh strainer and place in a pot with broth. Bring to a boil, reduce heat, then let simmer for 20 minutes. Remove from heat and let cool slightly.
For the pesto, process the garlic and sea salt in a food processor or powerful blender. Then add 2 c. spinach, walnuts, lemon zest, and lemon juice and puree. Slowly drizzle in olive oil as it processes.
In a large bowl, combine the quinoa and pesto and stir to combine. Add in the remaining 1/2 c. spinach, the peas, and the radishes.
Serve at room temperature or chilled.
http://www.laurelofleaves.com/2012/07/spinach-pesto-quinoa-salad-with-radishes/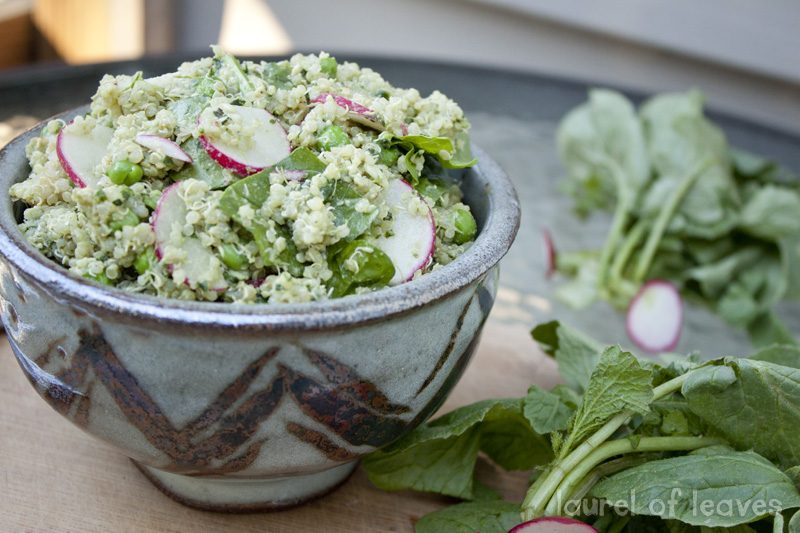 What is your best recipe with radishes? Share them with me below so I can experiment!
This post is shared on Slightly Indulgent Tuesday, Traditional Tuesdays, Allergy Free Wednesdays, Real Food Wednesday, Fresh Foods Wednesday