Mango. Goat cheese. Say no more. I'm sold. Take me to it and let me at it!
I based this salad off a couple recipes I found on Pinterest, making a few additions, subtractions, and substitutions and I have to say I'm rather pleased with the results. Seeing as I ate almost the whole bowl by myself, I think it's safe to say I'm very pleased with the results.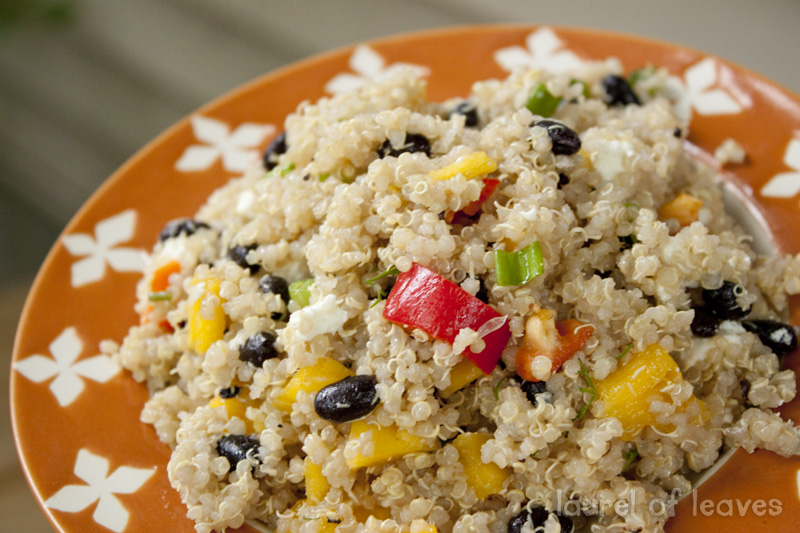 Quinoa makes such a great base for a salad. There are endless possibilities with flavor combos, and it adds a nice bit of protein to the meal. It's a seed, not a grain, and it's naturally gluten-free. I buy big bags of organic quinoa from Costco, so I've just added this awesome cookbook to my wishlist.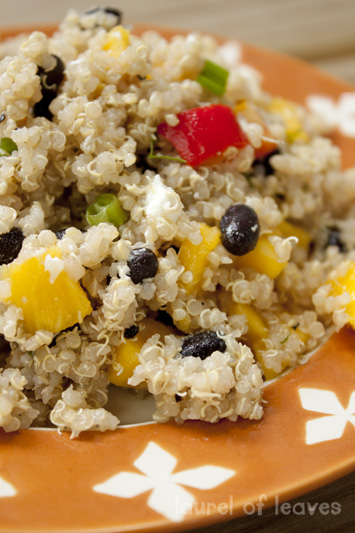 This salad is incredibly colorful and full of flavor. I like to take it with me to potlucks or share meals in the summer. But I always set aside a bit in the fridge for later. You know, for my husband to eat. Unless of course, I inadvertently neglect to inform him of its whereabouts at the back of the bottom shelf where other sad remains of once fresh food tend to die far and away from our sight and our memory . . .
But you don't want to hear how badly my fridge needs to be cleaned. You want the recipe! Here it is my friends. Create and enjoy.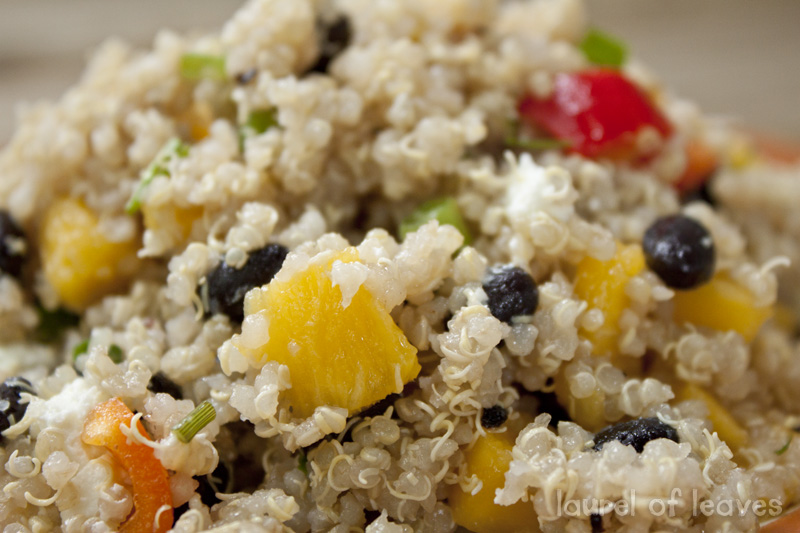 Mango Black Bean Quinoa Salad
Ingredients:
2 c. cooked quinoa, at room temperature or chilled (cook it in vegetable or chicken broth for the best flavor!) 1 1/2 c. cooked black beans 1 medium mango, peeled & diced 1 red bell pepper, diced 4 green onions, thinly sliced 1/2 c. chopped fresh cilantro 4 Tbsp. red wine vinegar 3 Tbsp. olive oil 1-2 Tbsp. fresh lime juice sea salt & black pepper to taste 3-5 oz. goat cheese, crumbled
Directions:
Combine the quinoa, mango, bell pepper, green onions, black beans, and cilantro in a large mixing bowl.
In a separate small bowl, combine the red wine vinegar, olive oil, and lime juice and whisk well. Drizzle on top of the quinoa salad and toss to combine. Season with salt & pepper, then gently fold in goat cheese.
Chill before serving.
What are your favorite quinoa dishes? Link to them below!
This post is linked to Slightly Indulgent Tuesday, Real Food Wednesday, Fight Back Friday