I ate my first orange chocolate chip muffin in New Zealand. It was made by one of our lovely hosts in Mangapai where we slept in an old boat and pooped in a long drop toilet. (But that was probably too much information for you in a post about muffins, huh?) I must have eaten at least 3 of those muffins in one sitting. So ridiculously delicious. I copied the recipe and just recently made my own batch, with a few variations to healthi-fy it. As always.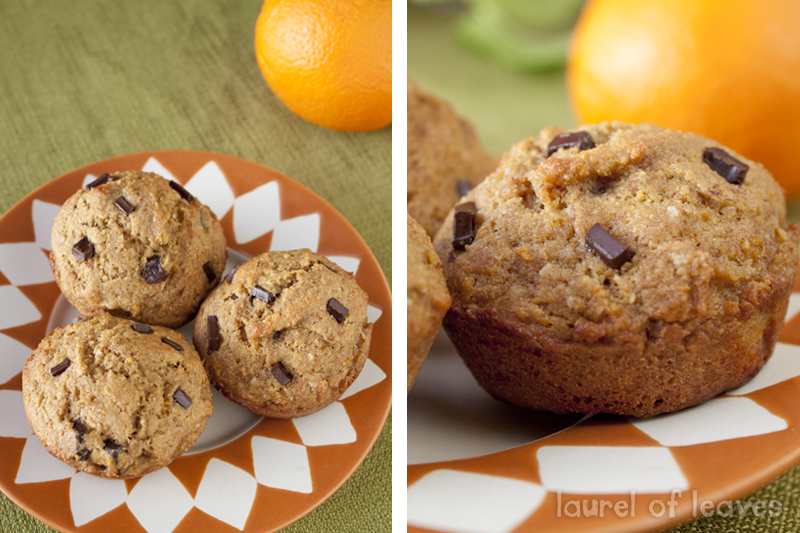 And again, I must have eaten at least 3 of these in one sitting. I would have eaten more if I hadn't had to share with my husband. But he probably would have said the same thing. Good thing we share well.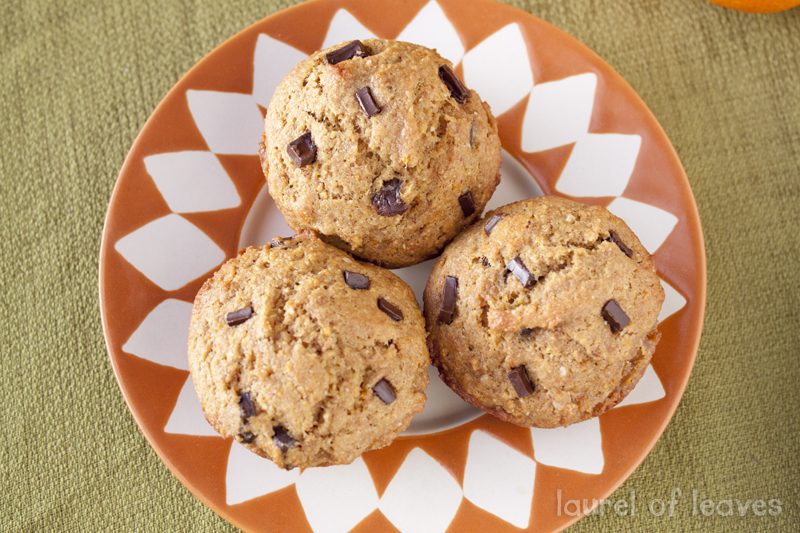 For this recipe you literally take an entire orange, peel and all (minus the seeds, of course), and throw it in the blender. How easy is that?! And wow, talk about massive orange flavor in these beauties. You'll also notice I use natural sweeteners – a combination of pure maple syrup and granulated coconut sugar. I'm especially loving coconut sugar these days (also called palm sugar) because it's full of flavor, low glycemic (35 on the GI scale), full of nutrients (like potassium, magnesium, zinc, calcium, iron, among others), and it doesn't generally trigger any food cravings. Find it at your local health food store or order it online.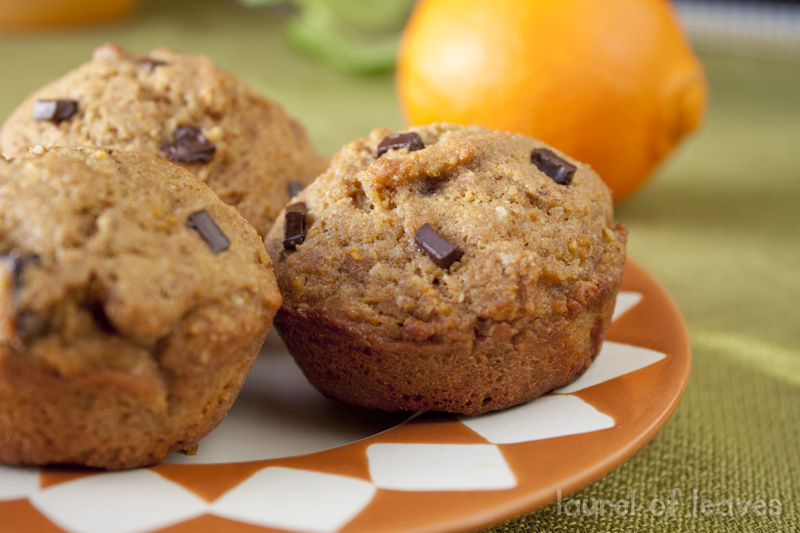 Whole Orange Chocolate Chip Muffins
Ingredients:
1 medium size orange 1/4 c. coconut sugar 1/2 c. maple syrup 1 egg 1/4 c. milk (raw cow's milk, or almond or rice milk) 6 Tbsp. butter 1 1/2 c. whole wheat or spelt flour (preferably freshly ground and/or sprouted) 1 tsp. baking powder 1 tsp. baking soda 3 Tbsp. almond meal 1/3 c. dark chocolate chips
Directions:
Preheat oven to 390 F.
Cut unpeeled orange into chunks and remove seeds. Place orange chunks, coconut sugar, and maple syrup into a blender and blend until orange is finely chopped. Add egg, milk, and butter, and blend until combined.
Sift flour, baking powder, and baking soda into a bowl and add almond meal. Pour orange mixture into dry ingredients and mix until just combined. Fold in chocolate chips. Mixture will still be lumpy. Spoon into muffin tins and bake at 390 F for 15-20 minutes.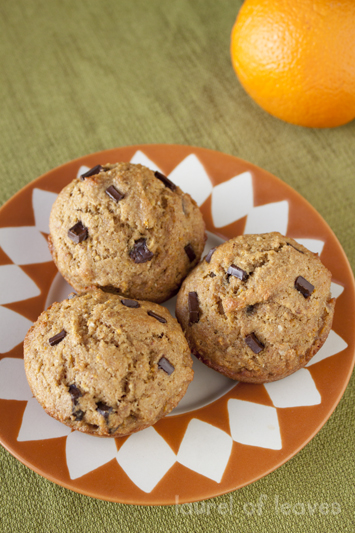 Have you ever baked with coconut sugar? What are your favorite natural sweeteners?
This post is linked to Tasty Tuesdays, Slightly Indulgent Tuesdays, Allergy Free Wednesday, Real Food Wednesday, Simple Lives Thursday