When I plan meals for the week, I like to have at least 2 or 3 salads on the list. I make up a big batch of each and keep them in the fridge for quick and easy lunches. Egg salad is one of my favorite salads to keep handy. It's nice and creamy, but not too creamy. I like my egg salad to have a bit of structure. More salad, less soup. You know what I'm talking about. Right?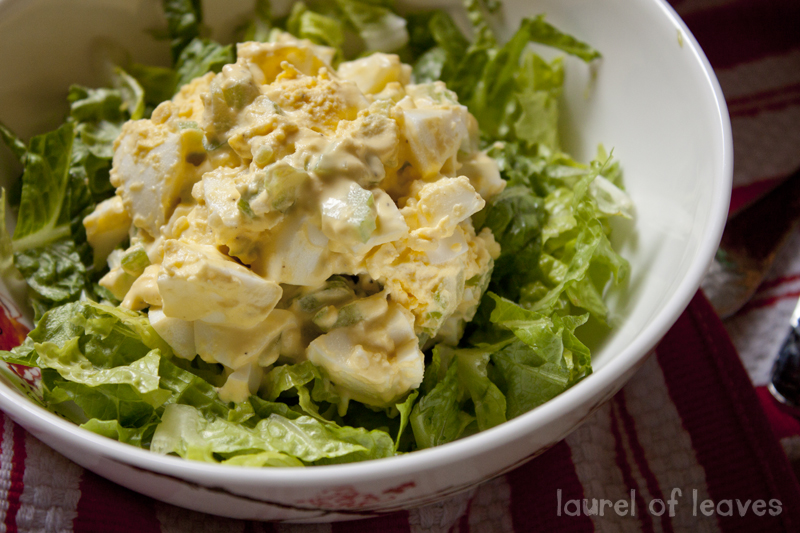 I serve it on a bed of baby spinach leaves or spread on a piece of sourdough toast. Of course, I only use free range, pastured eggs. They are chock full of nutrients (way more so than conventional battery cage eggs), aren't washed in a chlorine bath, and are so much more flavorful.
I also use homemade mayonnaise (made with pastured eggs and grapeseed oil) or I buy Veganaise made with grapeseed oil. None of that rancid canola or vegetable oil in regular store bought mayo. Plus, have you ever looked at the other ingredients in that jar? Downright scary, I tell you.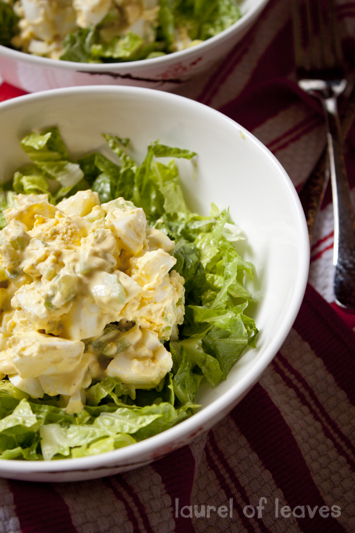 Not Too Creamy Egg Salad
Ingredients:
6-8 hardboiled eggs 1/3 c. homemade mayo or Veganaise 1-2 celery stalks, diced 1 Tbsp. lemon juice sea salt & pepper to taste
Directions:
After hard boiling eggs, transfer to a bowl of ice water, then chop them in half, peel and all. Scoop out yolk with a spoon and add to a small bowl. Roughly chop egg whites into cubes and place in a separate large bowl with diced celery. Add mayo and lemon juice to the egg yolks and mash together well with a fork.
Gently fold mayo mixture with eggs and celery. Season with sea salt & pepper and serve on a bed of greens or spread on a piece of toast.
What are your go-to recipes for meal planning?