Party apps are some of the most fun and creative recipes out there. And you know that if something has goat cheese in it, I'm all about it. Such was the case when the hubster and I went to a friend's house for dinner and a documentary. On the big completely normal sized television screen was Dive, a documentary about dumpster diving and living off America's waste. A must-see if you're anything like me and hate to see perfectly good food go to waste!
But as a precursor to the show, my friend Thomas put together these incredible Goat Cheese Pepper Poppers. I snapped a quick photo with my phone before we all devoured them, and he graciously offered to share the recipe with me and with you, my lovely readers!
Whip up this healthy appetizer at your next party or get-together with friends. It's Delicious with a capital D!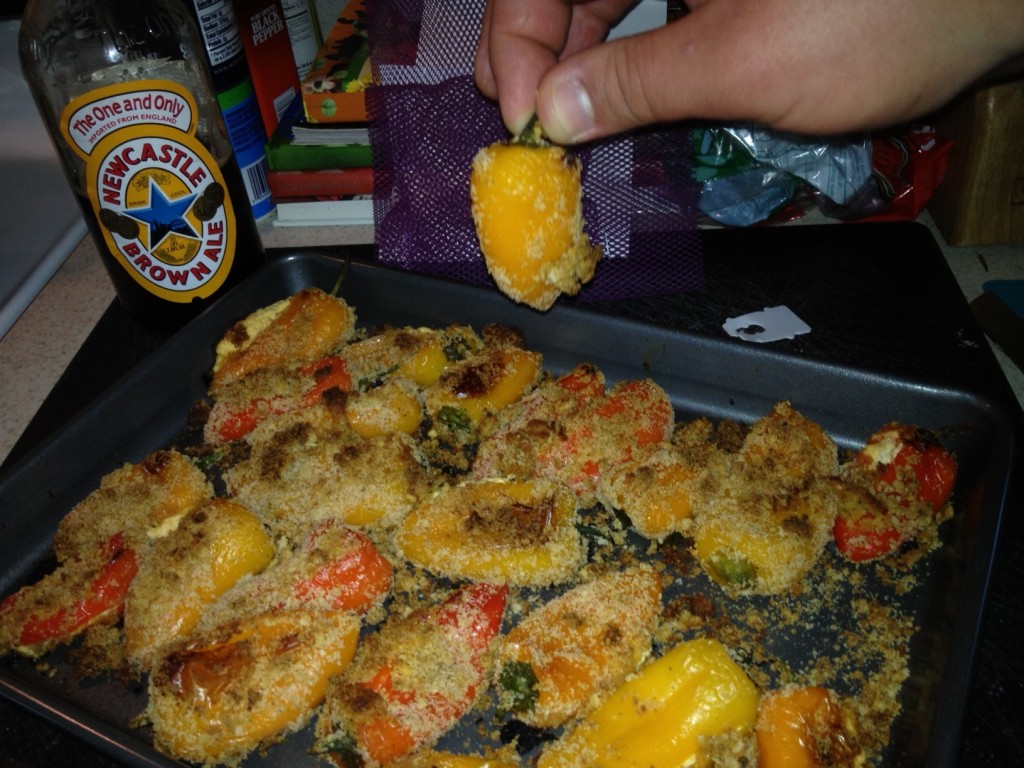 Goat Cheese Pepper Poppers
A note from the chef: These poppers are a flavor packed starter to any meal – and a huge nutrition improvement over the greasy frozen peppers poppers in your local grocery frozen food section. These treats would pair well with a good nutty beer such as an IPA.
Ingredients:
15 to 20 small sweet 'salad peppers' (depending on size)
7 oz. goat cheese (or about 2/3 of a large log)
2 generous Tbsp. Sriracha hot sauce (or to taste)
1 egg
1/2 c. water or milk
2 c. Panko style Japanese breadcrumbs – the large crumbs give a great crunch to this baked treat
1 tsp. paprika
Black pepper, to taste
Directions:
Using a mixer, blend the goat cheese and sriracha sauce until smooth and creamy.
Take half the breadcrumbs, pepper, and paprika and place into a blender. Blend until breadcrumbs are texture of corn meal. Place this mixture into a large bowl, then add in the remaining 1 cup of breadcrumbs. Gently but thoroughly mix. In a separate bowl crack open the egg and beat with milk or water until well mixed. Set both bowls aside.
Preheat oven to 425 F. Take peppers in small batches and place into a steamer to soften. Allow to steam for about 3-5 min or until the flesh can easily be punctured with a knife. Remove from steamer and set aside. Allow to cool. After the peppers are cool, take a sharp paring knife and slice a 1-2 inch slit lengthwise down the side of each pepper. Using a small spoon, stuff the goat cheese mixture into the slit on the pepper – enough to fill about 60 percent of the pepper.
Tip: it helps to pinch the ends of the pepper gently together to allow the slit to open enough to stuff the pepper.
After stuffing, take each pepper, dip into the egg mixture and then dredge into the breadcrumb mixture until evenly coated.
Place stuffed and coated peppers onto a lightly greased baking sheet. Bake peppers at 425 F for about 10 minutes or until the crust is golden brown. Allow baked peppers to cool at least 5-10 minutes before serving.
What is your favorite healthi-fied party food? 
This post is linked to Real Food Wednesday, Pennywise Platter