Rich, moist carrot cake. Extra creamy cream cheese icing. A decadent dessert chock full of pineapple, walnuts, raisins, and carrots. I mean whoa – a dessert full of veggies and fruit and healthy things! Even the sweetener is mostly healthy! No refined sugar here at all my friends.
You might remember I posted this recipe a couple years ago in the fall. My husband requests this cake every year, without fail, for his birthday. Last year was no exception. We had just returned from traveling in New Zealand and I was more than ready to take over my mother-in-law's kitchen and bake up a storm.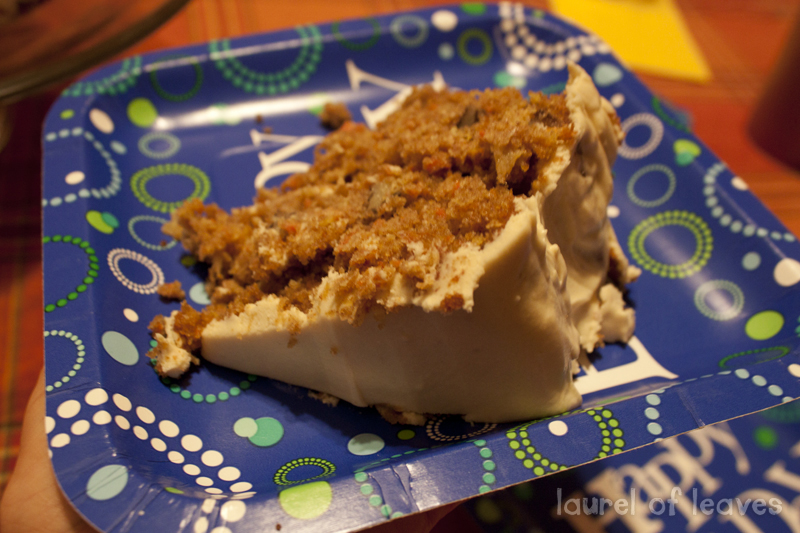 I figured now would be a great time to revisit this recipe, seeing as Easter is a mere eleven days away. Whip this up and bring it to Easter lunch with the family. Who needs nasty cream filled chocolate eggs when you can have Carrot Cake with cream cheese icing?!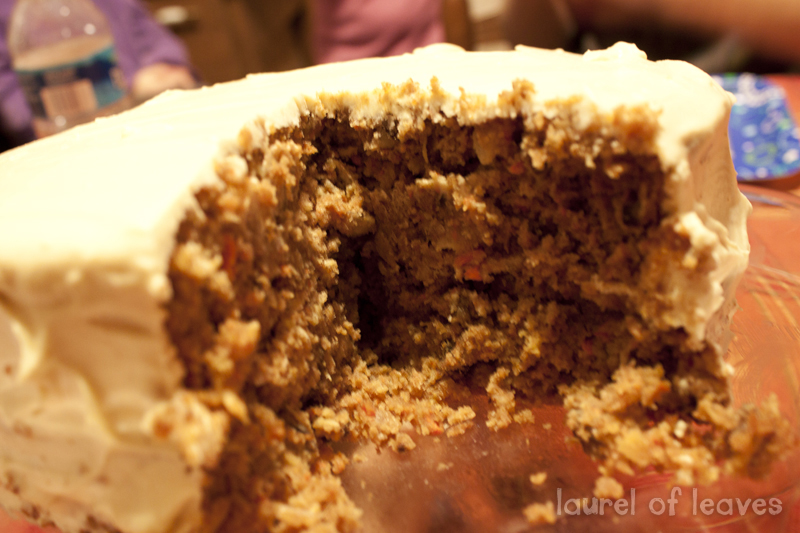 I like to use spelt flour when I bake (it's a whole grain that is very low in gluten – many people who are gluten-intolerant do well with it), or a combination of whole wheat pastry flour and freshly ground whole wheat flour (I buy hard red wheat berries from the bulk bins at Whole Foods and grind it into flour with my Vitamix dry blade container. Red wheat berries make flour that is better for breads and such, while white wheat berries make better cakes and pastries. Hence the combination for this cake.)
Ultimate Carrot Cake
Ingredients:
3 c. spelt or whole wheat flour 1 c. unsweetened shredded coconut 1 c. chopped nuts (walnuts or pecans) 2 tsp. baking soda 2 tsp. cinnamon 1 tsp. sea salt 2 c. grated carrots 1 1/2 c. grapeseed oil 1 1/2 c. maple syrup or honey (or a combination) 3 eggs 2 tsp. vanilla 2 c. crushed pineapple (with juice)
Directions:
Preheat oven to 325 degrees F. Combine all dry ingredients in a large bowl.  In a separate bowl, combine all wet ingredients and mix together. (I use my Vitamix here since it will chop my carrots for me. Just add the remaining wet ingredients to the blender and save yourself from having to wash another bowl.) Add wet ingredients to dry and stir until smooth.
Grease 2 round cake pans (I save my used butter wrappers and rub them on the pan) and pour batter into pans. Bake at 325 F for 50-60 minutes.
In the meantime, make the cream cheese icing: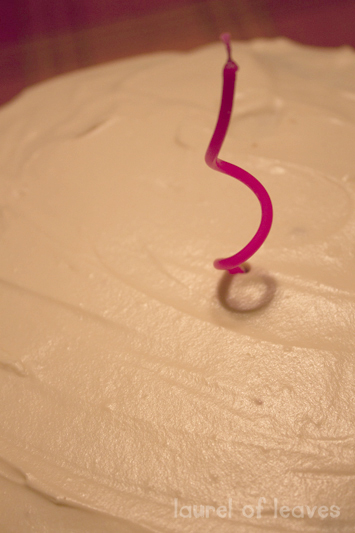 Cream Cheese Icing
Ingredients:
1/2 c. unsalted butter (1 stick), at room temperature 8 oz. cream cheese, at room temperature 1 Tbsp. lemon juice 2/3 c. maple syrup or honey (or a combination)
Directions:
Place all ingredients in a large bowl and blend with an electric (or manual) hand beater until smooth. How simple is that?!
When your cake is completely cool, place one round cake layer on a cake stand or plate and spread on the icing. Carefully place layer two on top and continue to ice.
Yummmmm . . . I'm toying with the idea of making these into carrot cake cupcakes. I'll keep you posted on how they turn out!
What is your favorite springtime dessert? What are you planning to make for Easter?
This post is linked to Pennywise Platter, Simple Lives Thursday