Am I taking my muffin obsession a bit too far? Is it sacrilegious to alter such a traditional breakfast food of deliciousness as French toast? Hopefully you don't think so, because these muffins are way too easy to make and way too tasty to turn down. Trust me.
I found this recipe on my friend Heather's blog, Then Comes Mercy. She's a fantastic writer & poet and I'm so glad she also likes to bake, because the world is a better place now that she's created these beauties.
Making French toast in muffin form means everyone's meal comes out piping hot at the same time. Can anyone say brunch for a large crowd? (This has always mystified me when it comes to pancakes. I can never keep them nicely warm & fresh at the same time for my husband and I to eat them together.)
The ingredient amounts below are going to vary depending on how many muffins you plan to make. I only ever make six at a time (most likely because I only own a six hole muffin tin). But it's not an exact science here. I know they say cooking is an art and baking is a science, and this is technically baking, but think of it more like a science experiment. And don't get too stressed out over it. It's just not worth it, people!
Naturally, I've opted to use natural sweeteners and a sourdough bread. (Did you know the sourdough fermenting process helps render the gluten more digestible? I find that sort of thing fascinating.) If you're gluten-free, try using brown rice bread or another gluten-free loaf.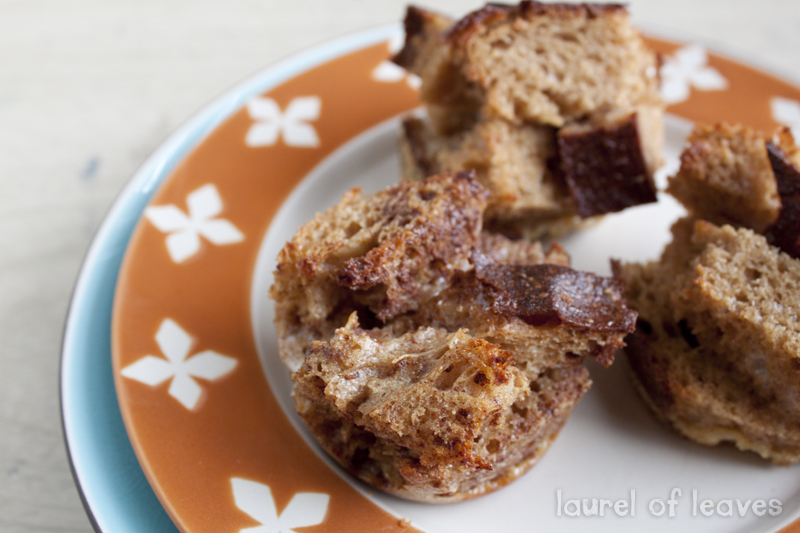 French Toast Muffins
Ingredients:
a few slices of sourdough bread, cut into strips 2 eggs 1 tsp. cinnamon stevia powder, sprinkled to taste 1/4 c. raw milk, almond milk, rice milk, or coconut milk a couple glugs of pure maple syrup
Directions:
Preheat the oven to 350 F.
Combine eggs, stevia, milk, and maple syrup in a medium size bowl and whisk lightly.
Taking a few strips of bread at a time, soak them in the mixture, then arrange them inside a muffin tin hole. Repeat with the remaining slices of bread until your muffin tin is full. Add more milk, egg, syrup, etc. as needed to the bowl as you go.
Drizzle the tops of the muffins with a bit more maple syrup, then pop them in the oven for 20 minutes.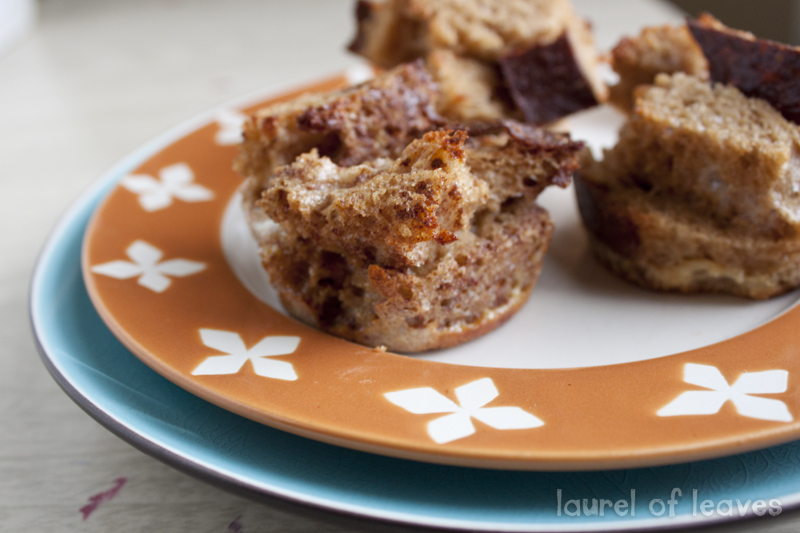 What is your favorite recipe to serve a crowd at breakfast? 
This post is linked to Simple Lives Thursday, Slightly Indulgent Tuesday