Did you know that it is illegal to chew gum in Singapore? True story. Just a bit of trivia for you on this fine day.
Did you also know that pomegranates are one of my favorite wintertime fruits? Just in case you weren't aware, get yourself filled in on how to open one, then go make yourself some quesadillas or muffins with them. Or, of course, stick around on this page and include them in this Winter Chop Salad with Apple, Pear, & Pomegranates. It's a hefty boost of antioxidants and energy for your day.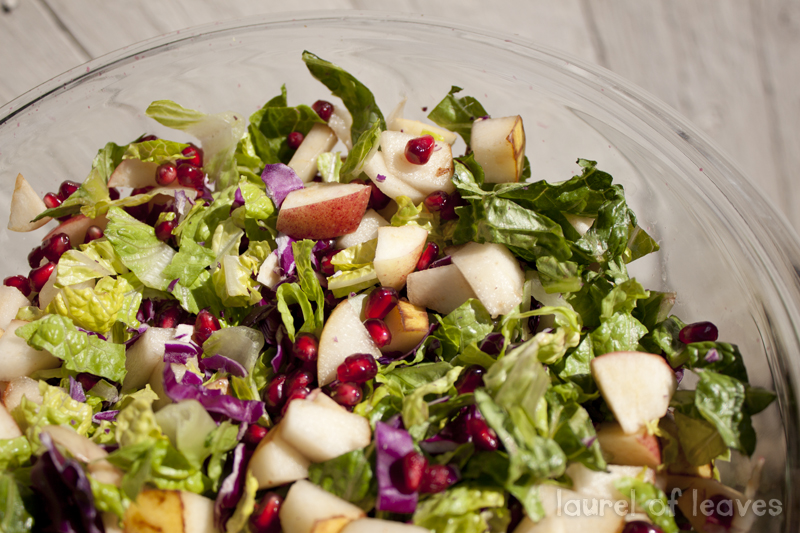 Salads are typically a spring and summer food for me. They're light and crisp and refreshing in the sweltering, sometimes oppressive, heat and humidity of Tennessee. For most of the winter I'm shivering in my fuzzy brown robe as I work on prepping dinner, and the thought of eating cold food like salads or smoothies doesn't really appeal to me. But after a while, my body starts reminding me that I need more salads in my life. I need more raw, fresh nutrition. Spring is just around the corner! Let's eat a salad!
This salad is perfect for that occasion. It uses seasonal ingredients and literally burst with flavor in your mouth. My husband and I both polished off extra large bowls for lunch the other day.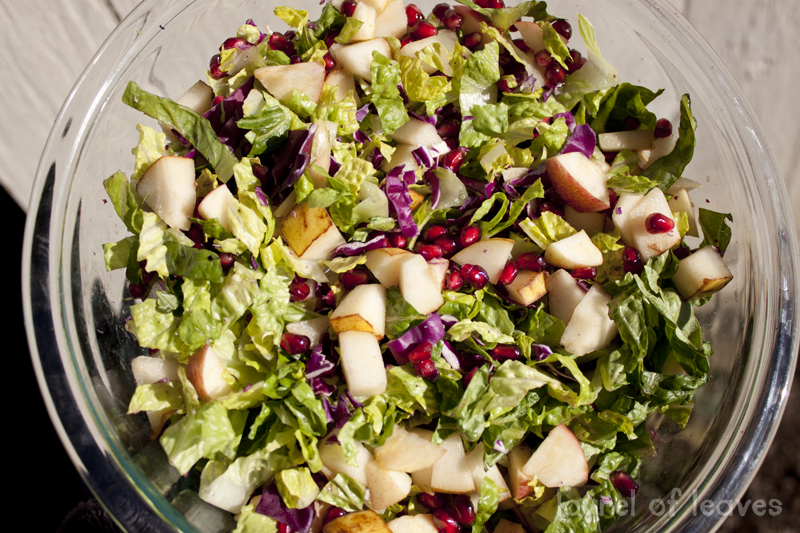 Winter Chop Salad with Apple, Pear, & Pomegranate
[adapted from
With Style & Grace
]
Ingredients:
4 c. chopped romaine lettuce 2 c. sliced red cabbage 1 Fuji apple, cored & diced 1 pear, cored & diced 1/2 c. pomegranate arils
Dressing:
1/2 c. red wine vinegar 1/2 Tbsp. honey 1/4 c. grapeseed or olive oil
Directions:
Combine salad ingredients in a large bowl. Combine dressing ingredients in a separate small bowl and whisk together. Drizzle dressing over salad and toss to combine. Serve immediately.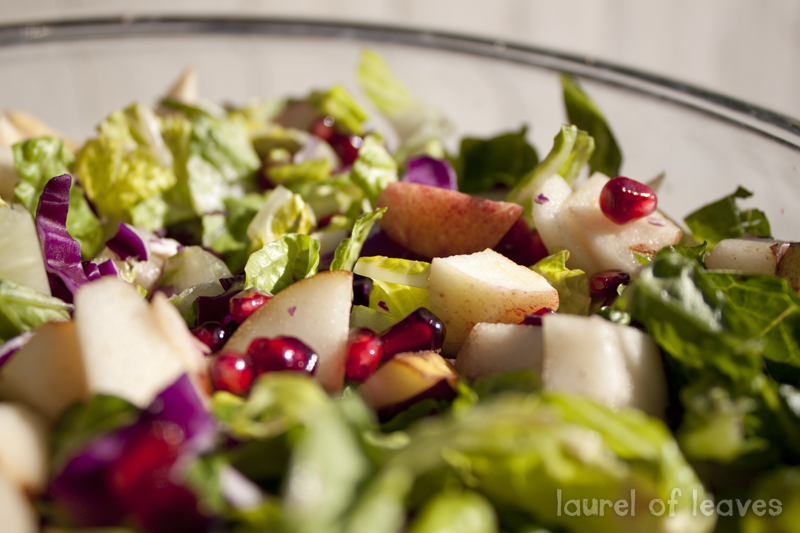 Just looking at the pictures makes me want to whip up another batch!
What are your favorite winter salad combinations?
This post is linked to Slightly Indulgent Tuesday, Pennywise Platter, Simple Lives Thursday