This little beauty I came across on A Little Bit Crunchy, A Little Bit Rock n' Roll, who originally found the recipe on Kalyn's Kitchen. There's just so much blogger love going on here I can barely contain it. Once I saw the recipe I immediately bookmarked it so I could see about making it for Thanksgiving dinner – which I did! The fam liked it so much they've requested I bring it for Christmas dinner as well.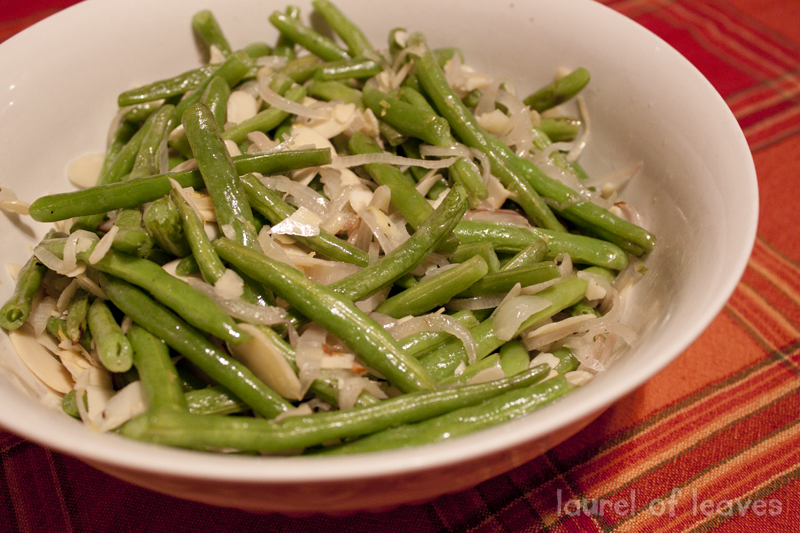 Roasted veggies are suuuuper easy to whip up and they really bring out a lot of flavor. You might notice my dish has lots and lots of shallots. That might have been user error, but I didn't mind one bit. Onions and shallots are so tasty, and when they're so good for you, I say bring it on! But seriously, if you want your shallot to green bean ratio further apart than what you see above, just ease up on them. Easy enough!
Roasted Green Beans with Shallots & Almonds
Ingredients:
1 lb. fresh green beans, washed & trimmed 6 shallots, peeled & thinly sliced 5 garlic cloves, peeled & thinly sliced 2-3 Tbsp. grapeseed or coconut oil 1 tsp. sea salt freshly ground pepper to taste 1/4 c. sliced almonds 1 tsp. lemon zest
Directions:
Preheat your oven to 450 F. Toss all ingredients together (except almonds and lemon zest) and place on a rimmed baking tray.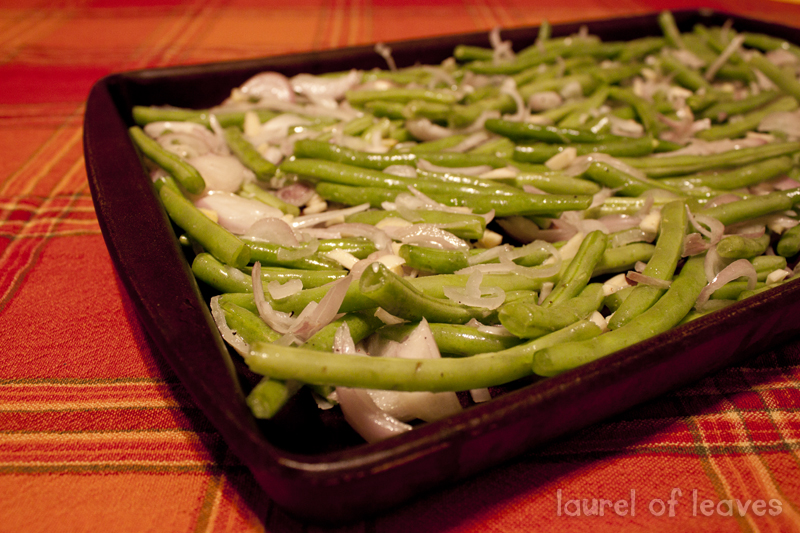 Roast for 15-20 minutes or until the shallots begin to brown and the beans begin to shrivel ever so slightly.
Remove from the oven and transfer to a serving dish. Toss with almonds and lemon zest and serve warm.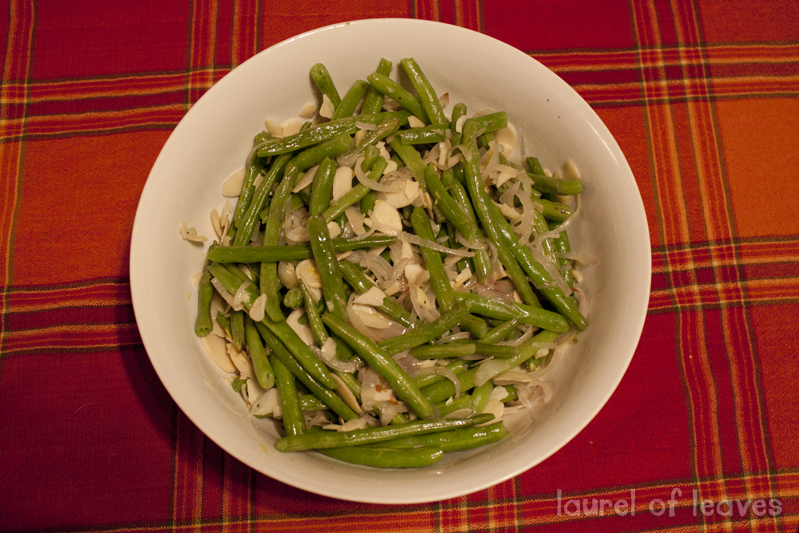 Quite the alternative to green bean casserole made with canned soup! Fresh green beans have loads of vitamin C, garlic and shallots are great detoxifiers, and almonds are a great source of fats to help balance hormones and lose weight. Seems like a no-brainer to me!
What recipes do you always make for holiday meals? Does your family request them? 
This post is linked to Homestead Barn Hop, Slightly Indulgent Tuesday, Real Food Wednesday, Simple Lives Thursday