Ah, summer. Carefree evening cookouts around the pool while the sunlight lingers on, giving way eventually to the light of the fireflies as my friends and I nurse cold fruity drinks and make plans for a holiday by the sea.
Summer means fresh food and bright colors. Tropical fruit and crisp, cold salads.
Unfortunately, I'm working my way back into winter in the Southern Hemisphere. So this fresh, zesty, brightly colored Lime & Mint Chicken Coleslaw will have to be my official summer stand-in this year.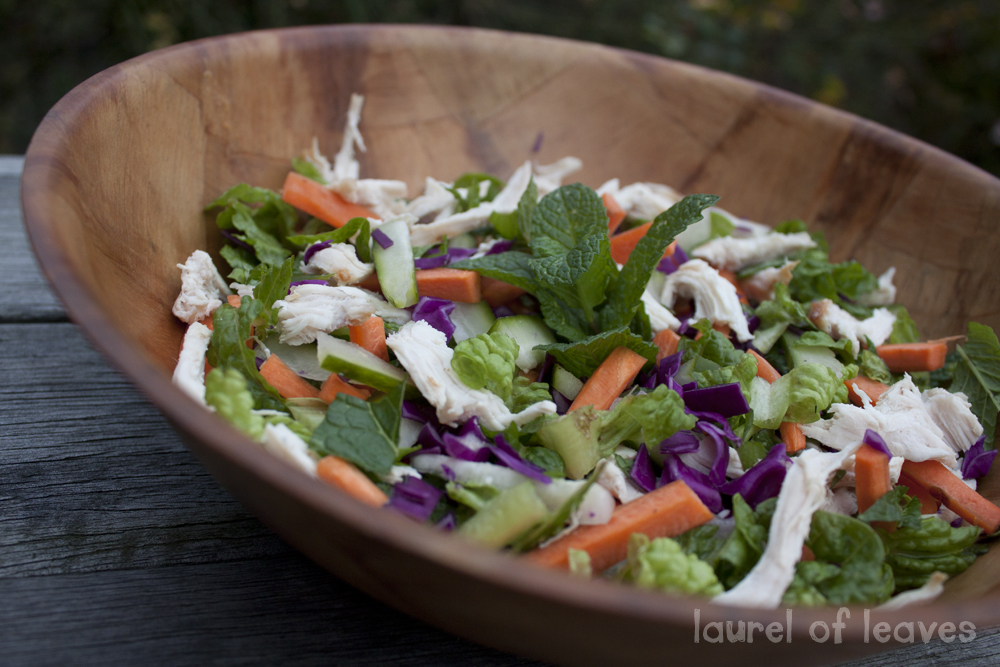 But I don't think you'll hear my taste buds complaining! This salad literally explodes with flavor. I knew it would be good, but I don't honestly think I expected it to be quite this good!
All of the fresh, raw veggies do so many wonderful things for your body.
Green leafy vegetables give you a boost of energy, are incredibly nutrient dense, and help regulate your blood sugar levels.
Red cabbage is great for your digestive system and can help get rid of dandruff.
Carrots are chock full of beta carotene: good for your eyes and your skin.
Cucumber's high silica and water content make it glorious for glowing skin.
And the dressing stands head and shoulders over store-bought versions.
Flax oil is full of Omega-3 fatty acids, essential for brain and nervous system health, joint health, and hormone balance.
Garlic is an immune-boosting superfood with anti-viral and anti-fungal properties.
Limes might taste acidic, but they have an alkaline effect on your body and have a high vitamin C content.
Apple Cider Vinegar boasts natural probiotics and is alkalizing as well.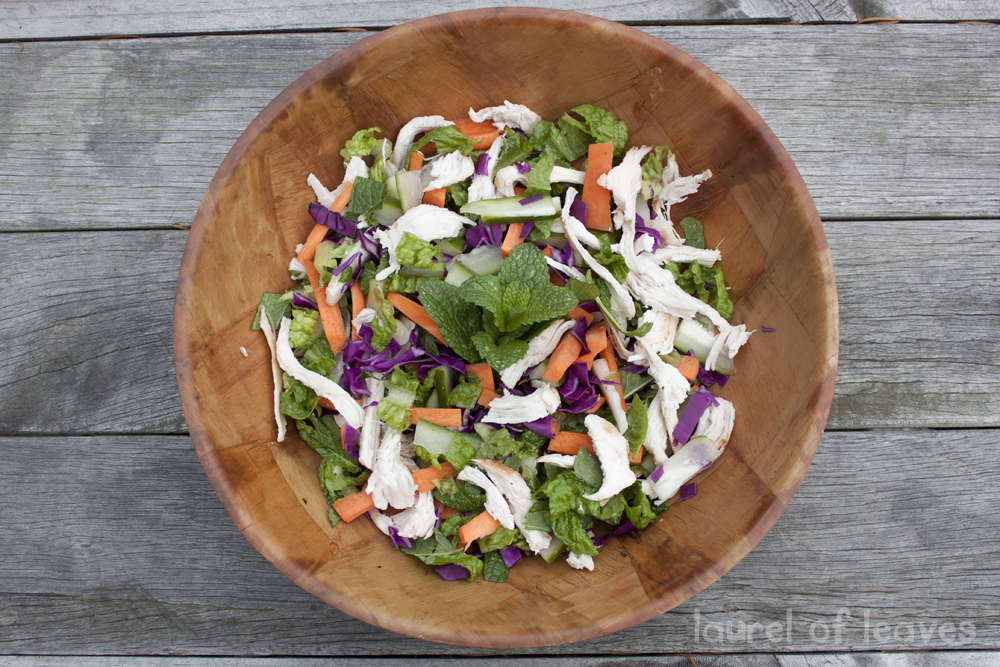 How can you go wrong?!
Lime & Mint Chicken Coleslaw
Ingredients:
1-2 chicken breasts, cooked & shredded 1/4 red cabbage, finely chopped 3-4 cos or Romaine lettuce leaves, finely chopped 1 carrot, sliced into batons 1/2 cucumber, sliced into batons handful of mint leaves, roughly chopped
Dressing:
1 Tbsp. flax oil juice of 2 limes 1 clove garlic, minced 1 tsp. apple cider vinegar
Directions:
Combine all salad ingredients in a large bowl. In a separate cup, combine dressing ingredients. Drizzle over salad just before serving. Feel free to double dressing recipe if you prefer your salads extra saucy, but be warned–it's zesty!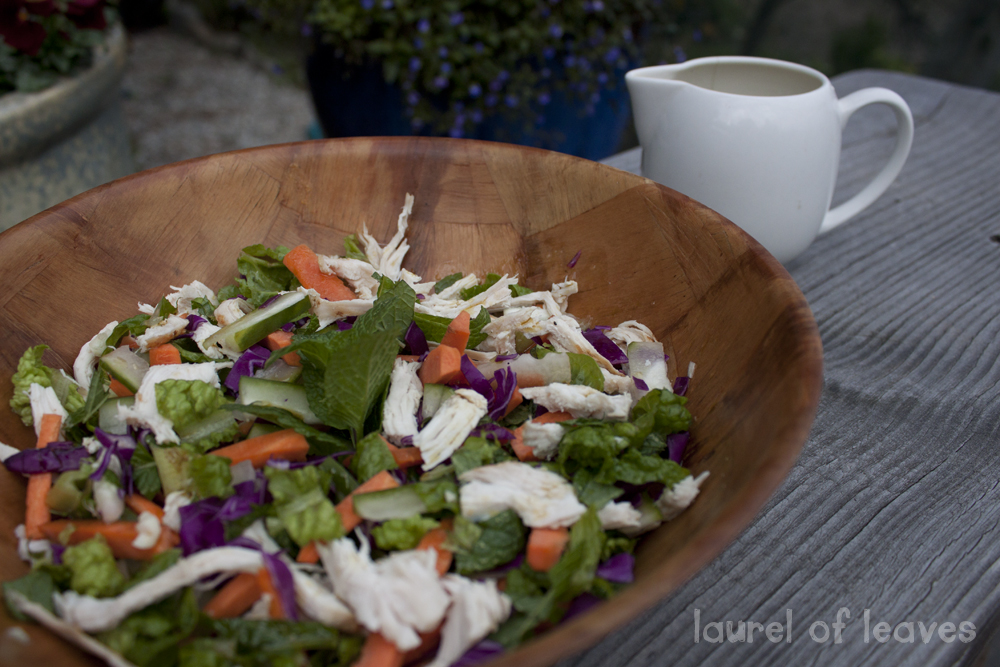 You'll probably make this for your next summer cookout, but then taste it and put it back in the fridge to save for yourself later. But come on, spread the love! This is definitely a salad worth sharing.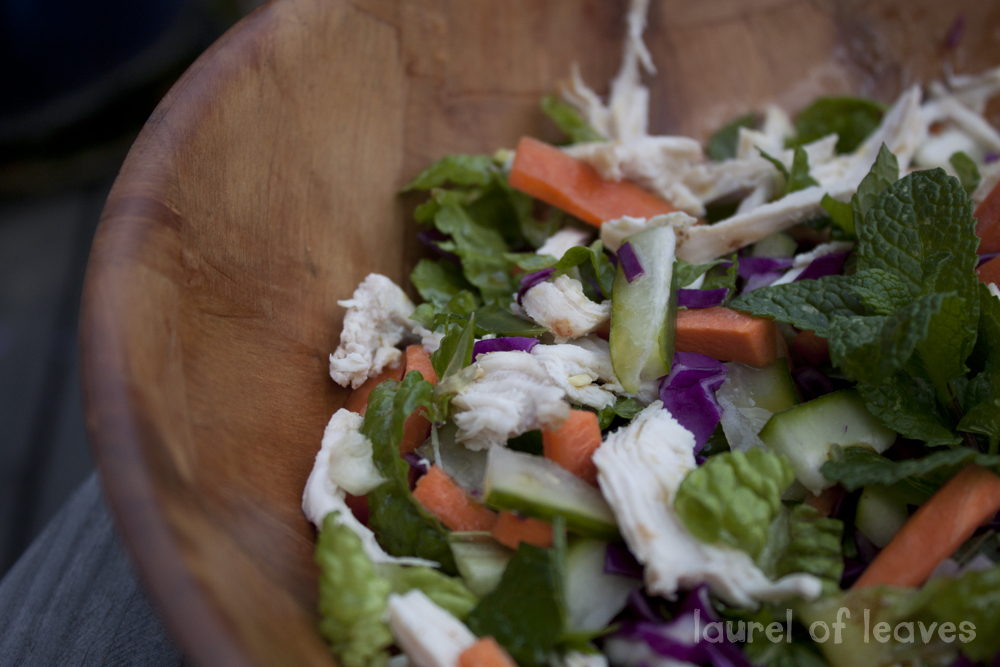 What's your favorite summer salad?
This post is linked to Homestead Barn Hop, Monday Mania, Traditional Tuesdays, Slightly Indulgent Tuesday, Real Food Wednesday, Recipes I Can't Wait to Try, Gluten Free Wednesdays, Summer Salad Sundays