We all have those recipes. The ones that may not be fancy or incredibly unique, but they are tried and true, tested and found delicious, so you make them again and again.
And no one seems to mind when it's such a great recipe!
That's what a good ole standard potato salad is to me. I have a love affair with potato salad–especially when it's mayonnaise-y and has hard boiled eggs. My sister-in-law makes a fierce potato salad and I always request it for Thanksgiving and birthday picnics with the family.
So I've based my 'go-to' potato salad recipe off hers.
"Go-To" Potato Salad
Ingredients:
6-8 red potatoes, chopped into cubes of similar size 2-3 hard boiled eggs, chopped 2 sticks celery, chopped 1/2 c. – 1 c. mayonnaise sea salt & freshly ground black pepper to taste
Directions:
Place potatoes in a big pot and cover with water. Bring to a boil and cook until potatoes are soft. I like mine pretty gooshy, but how long you cook them is up to you.
Allow potatoes to cool a bit before adding the hard boiled eggs, celery, and mayonnaise. I like to use Vegannaise with grapeseed oil, but maybe one of these days I'll get around to making my own mayo without any preservatives, additives, or rancid oils in sight.
Stir it up well, season to taste, then bring it to my house so I can devour it!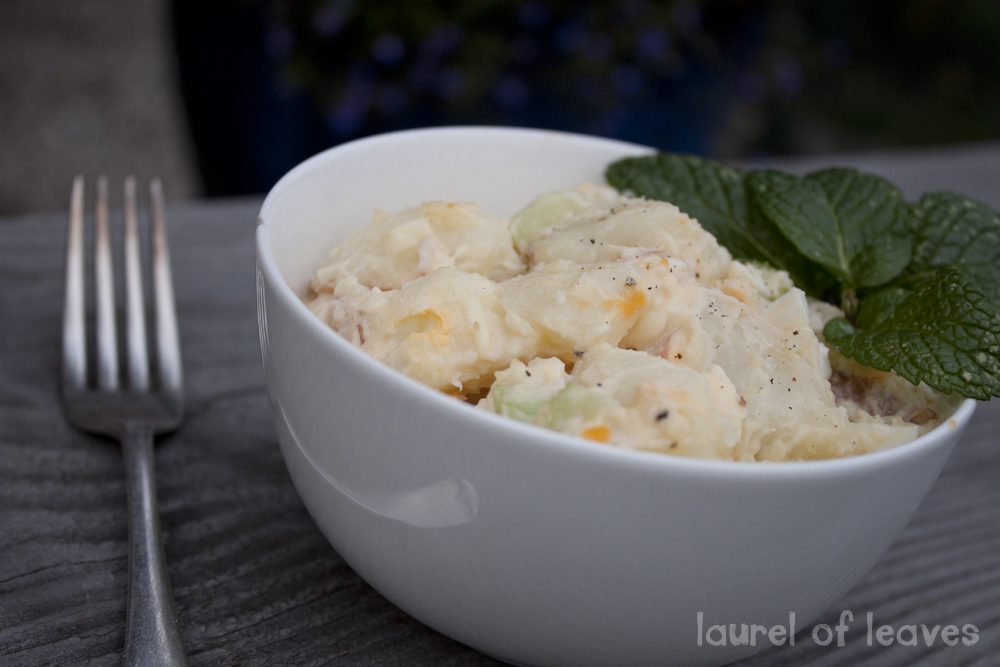 Potatoes may be starchy and not quite as nutrient dense as vegetables, but they are a really good value for the money. I prefer using red potatoes for my potato salad. Or if you need to go down an even simpler route, just boil them up and toss them with lots of butter and parsley. Mmmm . . . comfort food . . . ;)
What is your favorite 'go-to' recipe?
This post has been linked to Fight Back Friday, Homestead Barn Hop, Mouthwatering Monday, Slightly Indulgent Tuesday, Traditional Tuesdays, Real Food Wednesday