I love my Vibram FiveFingers.
I get a host of different reactions when people see my shoes for the first time. Things like:
"WHAT in the world are those?!? Those are some funky looking things you have on your feet." To "Wow, I love your shoes. I've been wanting a pair. Are they comfortable?"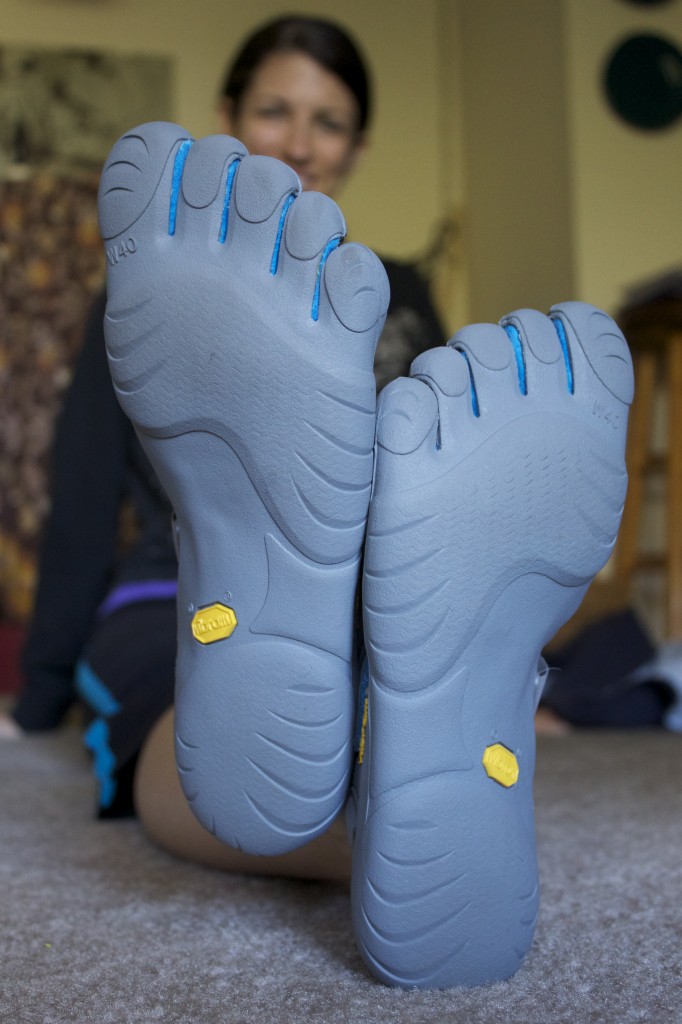 Some people might pass off the current 'barefooting' craze as just another trendy thing to do, but there are actually good reasons why I got rid of my expensive running shoes in favor of my Vibram FiveFingers.
In fact, did you know that running injuries weren't common until the invention of the modern running shoe in the 1970s?
And studies have shown that typical athletic shoes torque your knee more than high heels.
Athletic shoes are terrible for your body. Here's why:
Your toes are cramped into the tiny, triangular space in the shoe, removing your natural agility & balance afforded by your toes
Your posture is thrown off by the simple fact that the padding in the shoe elevates your heels (same idea as high heels, just not as noticeable)
But here's the kicker. Running shoes give you a 'heel-strike' gait that sends unnatural shock through your knees, hips, and lower back.
When you run in athletic shoes, you extend your entire leg and your heel takes the brunt of the impact (but you don't feel pain because there is so much padding in the shoe). Where is the shock absorption? That's right, there is none.
So the impact travels straight up your legs, being absorbed by your knees, hips, lower back, even up your spine to your neck (it's all connected, after all).
You can see the 2 big spikes in impact in the video below when you run with a heel-strike:
Compare that to the even absorption of shock when you run barefoot (and therefore naturally strike more on the ball of your foot):
When you think about it, it actually makes sense to go barefoot. Those funny looking appendages at the end of our legs are shaped like that for a reason. We have toes to aid in our balance and our sensory perception of the ground beneath our feet.
But when you shove your feet into shoes, you restrict their ability to do either of those things. Kelly of Root Simple talks about taking the stairs barefoot as she gets older. She says,
When I'm barefoot I feel completely safe. On the way down, my toes grab the edge of each stair, automatically. Going up, I'm high on the ball of my feet, and don't worry about catching a toe and tripping.

This led me to realize, on a visceral level, that when you're barefoot, you're very surefooted. Your foot is conforming to the terrain, and the nerves in your foot are sending a constant flow of feedback to your brain. You walk more lightly–not more hesitantly, but with more awareness.
Just think about the feet of people, say, in the Pacific islands. Most of them still go barefoot on a daily basis. And their feet are much wider and their toes spread apart.
These pictures are from a 1905 study published in the American Journal of Orthopedic Surgery, which examined the feet of native barefoot populations in the Philippines and Central Africa.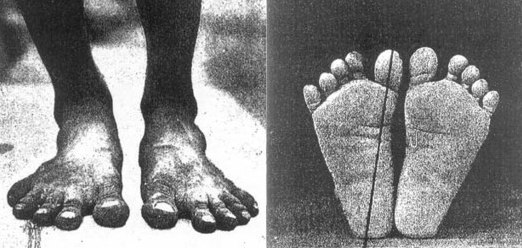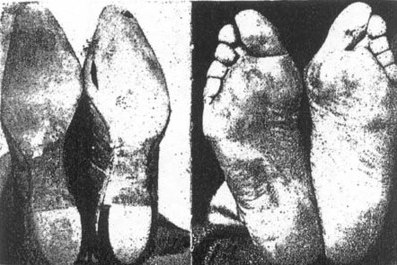 Notice a difference? Which set of feet do you think offers a better base for balancing and supporting the entire body above it?
Upon losing my shoes, I had to re-train the muscles in my feet and calves. After all those years of shoving my feet in shoes, I basically had to re-learn how to walk and run. It's recommended that you gradually work your way up to your full distance when starting to run or walk barefoot or in FiveFingers. Your calves will be ridiculously sore for a few days! But that just goes to show how far we've strayed from how we were created.
Granted, I firmly believe there is always a bit of adaptation that needs to happen to compensate for the environment around us. I wouldn't need to take probiotic supplements if I hadn't taken so many antibiotics as a child. And I wouldn't even need FiveFingers if there weren't shards of glass lying in parking lots.
But as it is, I love having the protection of a sole while still spreading my toes and strengthening the proper muscles in my feet.
Our bodies are incredible. They know what to do when we get sick in order to heal us. And they know how to walk and run in the way we were created. (Check out this incredible interactive website Vibram has set up–with fair warning that it might not be entirely appropriate for young eyes.) I've always loved this quote:
God doesn't need any help healing us, only no interference.
That's why I'm on a journey back to my roots. Back to the way things were meant to be before we decided we were smarter than God.
Now, to anticipate some of your questions/arguments/rebuttals/etc:
What about people with flat feet who require arch support? Trust me, they don't require artificial arch support. Walking and running barefoot will actually build the proper muscles in your feet so you will have a strong natural arch.
I've heard plenty of doctors say that going barefoot is bad for you. Yeah, well, I've also heard doctors say that everyone can benefit from statin drugs (NOT true for anyone, by the way). Follow the money trail, people! If research seems biased, find out who stands to benefit from it financially.
But those gorilla shoes look weird. Here, I will loosely quote Dave Ramsey and say, "If chronic pain and a host of medications are normal, then be weird." I admit, when my husband first expressed interest in buying some FiveFingers, I cringed a bit. I thought they were weird, too. But after doing my research (and seeing more and more people wearing them), they actually look completely normal to me now!
The benefits of going barefoot are just too convincing for me to ever turn back to conventional running shoes!
Are you a barefoot runner? What are your thoughts on Vibram FiveFingers?
**If you're interested in learning more about barefoot and minimalist running, check out my Lose the Shoes series!**