One of the perks to staying on a farm is all the fresh eggs we can eat. And all the fresh vegetables we can pick from the garden!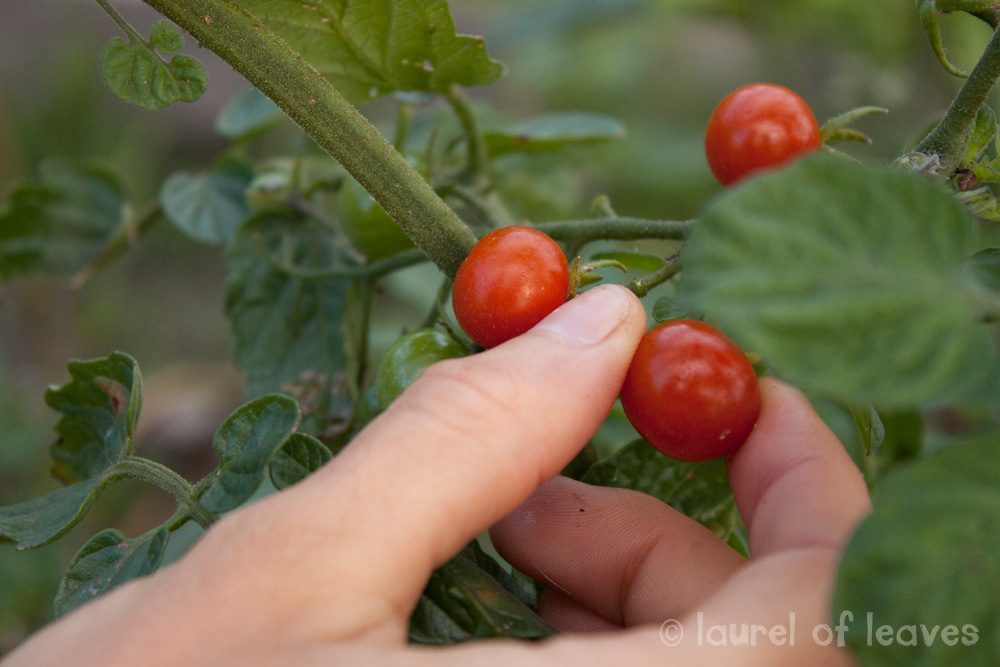 Right now we are in the far north of New Zealand staying with some great hosts on their farm near 90 Mile Beach. With a day full of mulching ahead, I knew I needed a good, hearty breakfast with plenty of protein and energy-giving vegetables.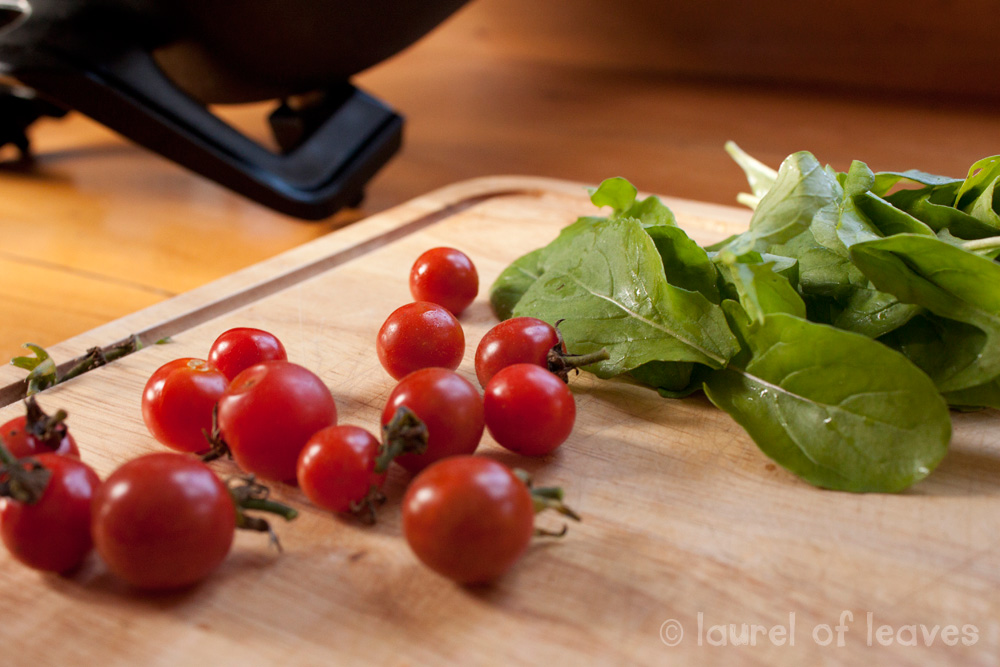 This dish serves up very well and looks very nice on the plate. Use your hands or a knife and fork to eat.
Egg Roll-Up Breakfast Burrito
6 eggs, lightly beaten 1/4 tsp. sea salt 1/4 tsp. pepper 2 Tbsp. grapeseed oil or butter a good handful of cherry tomatoes, halved 1 avocado, sliced 1 c. rocket (or other greens like arugula or baby spinach leaves) Juice of 1/2 a lemon 2 Tbsp. olive oil
*After our initial taste test, the hubby and I agreed that the meal could use more pizzaz. Here are some additional ingredients for you to consider:
1/2 tsp. dried basil or a handful fresh basil leaves, torn Crumbled goat's cheese or grated cheddar cheese
Combine eggs and seasonings in a small bowl. Heat grapeseed oil or butter in a large frying pan. Pour 1/4 of the egg mixture into the pan to form a thin crepe. Gently turn the egg crepe in the pan if needed. Transfer to a plate, then repeat with the rest of the egg.
Fill crepes with tomatoes, avocado, and rocket (adding basil and/or cheese if you want). Drizzle with lemon juice and olive oil. Season with sea salt and pepper to taste.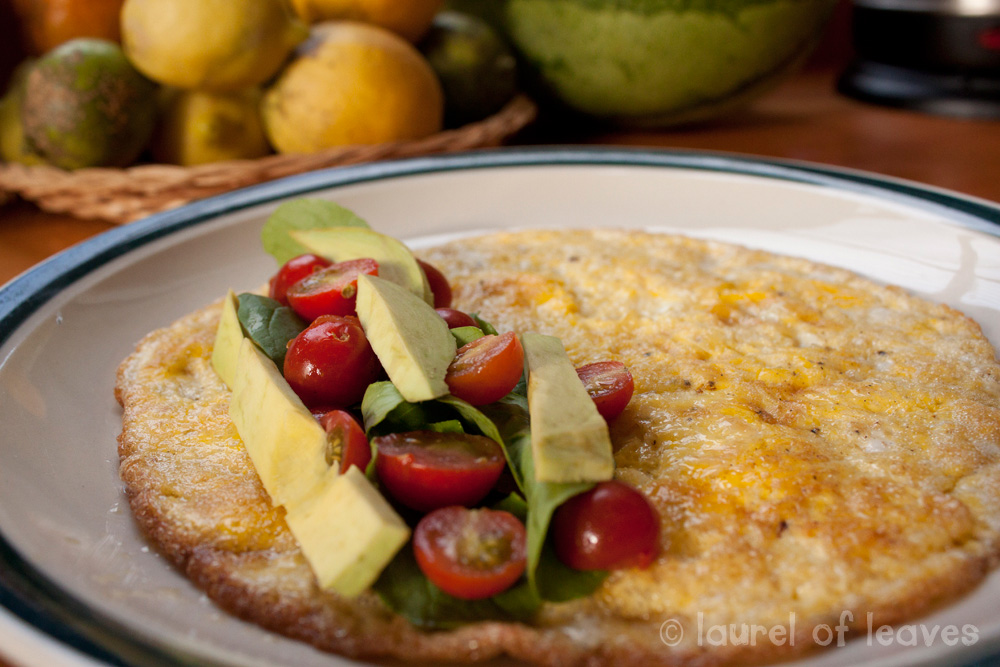 Roll up the crepe and serve!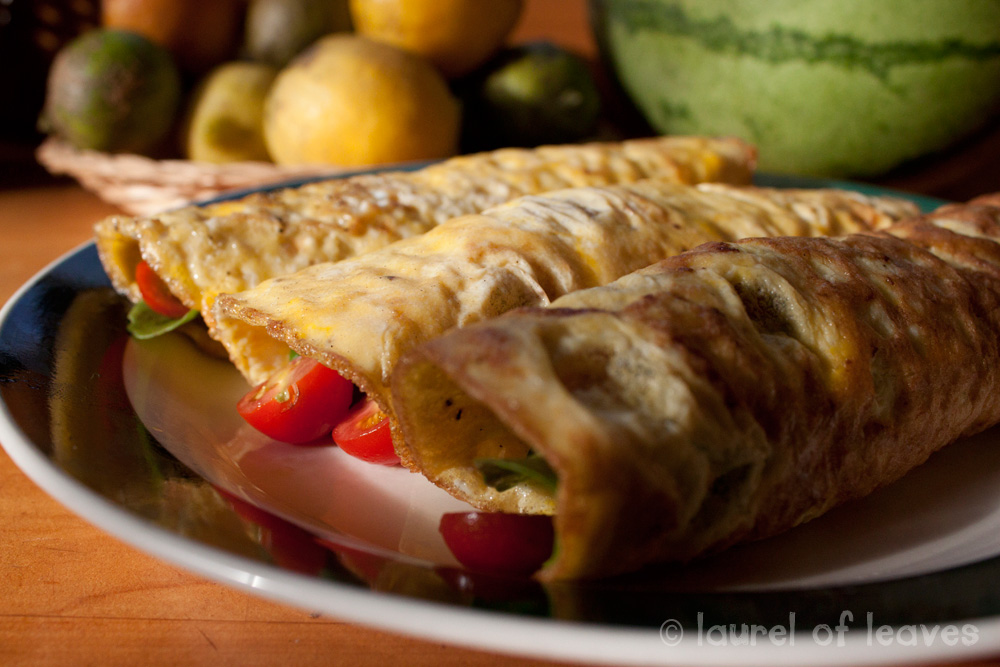 I only ended up with 3 crepes after using a bit too much of the egg mixture on my first go-round. But they worked that way too!
I love that this recipe is basically a breakfast burrito without the grains from the tortilla. And that you could fill it with just about any combination of ingredients possible! (Already I'm creating a Mexican version in my head with black beans, guacamole, and salsa poured over the top….)
What ingredients will be in your Egg Roll-Up?
This post is linked to Mouthwatering Monday, Monday Mania, Delectable Tuesday, Tasty Tuesdays, Tempt My Tummy Tuesday, Dr. Laura's Tasty Tuesday, Recipes I Can't Wait to Try, Pennywise Platter, It's a Keeper Thursday, Breakfasts at Day2Day Joys