Anytime you travel, it's inevitable that you will end up eating what I like to call a 'vacation' meal.
No condemnation here.
I've taken plenty of 'vacations' when it comes to eating healthy while on a vacation.
Case in point: I'm sitting in the Los Angeles airport waiting for my flight eating a Teriyaki Chicken bowl with white rice. And who knows what the heck was in that sauce.
But I knew I wasn't going to get a meal for another 6 hours once our plane took off. And I was hungry.
Famished actually.
And we even came prepared with snacks!
But sometimes all your best efforts of packing healthy snacks just don't cut it when you're traveling via airplane and need a full meal.
But here are some of my best tips for healthy eating while traveling:
Fruit
Fruit like apples, bananas, and oranges pack well. The natural sugars found in fruits will help keep you moving through the airport so you're not dragging behind trying to catch your connecting flight.
Veggies
Anything green will give you loads of energy. Unfortunately, it's not super easy to throw a salad into your carry on bag. I like to pack small bags of carrots, cucumber slices, or bell pepper slices.
Trail Mix
When is this NOT a great option for snacking? My husband eats abnormally large quantities of trail mix. I make mine with pecans, almonds, raisins, and dark chocolate chips. Everything in the mix is loaded with antioxidants. The nuts also give you a boost of healthy fats and protein. You can add other fun things like coconut flakes or sunflower or pumpkin seeds too.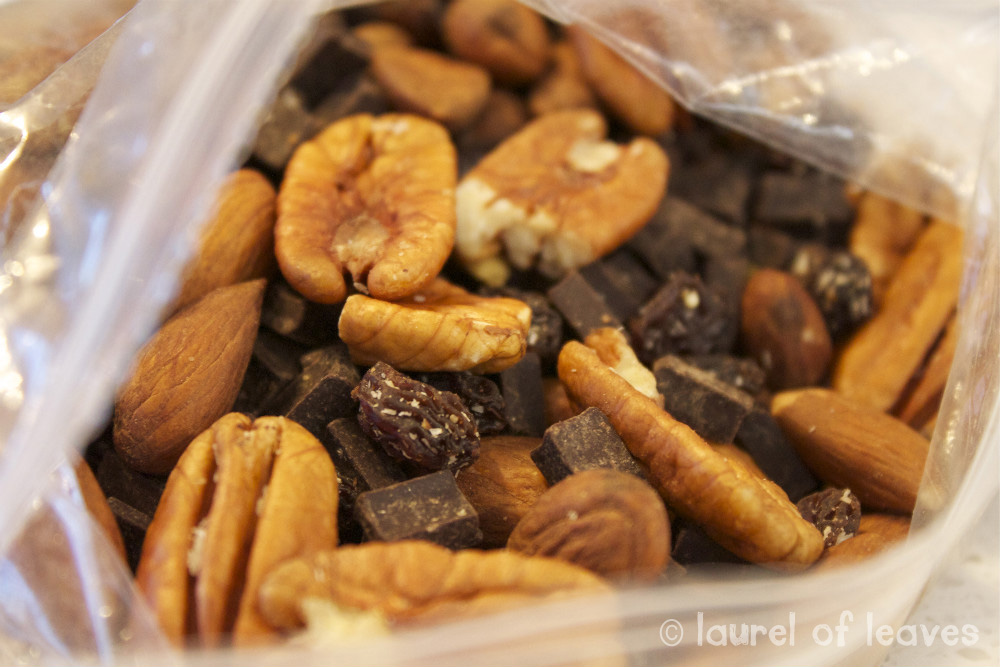 Snack Bars
I will stay away from most snack bars or cereal bars since they are LOADED with sugar and grains. But I love brands like Larabar and gRAWnola. These are about middle ground as far as cost goes–not the cheapest, and not the most expensive either–but you can't beat the ingredients. For example, the Apple Pie Larabar is made with dates, almonds, unsweetened apples, walnuts, raisins, and cinnamon. And that's it.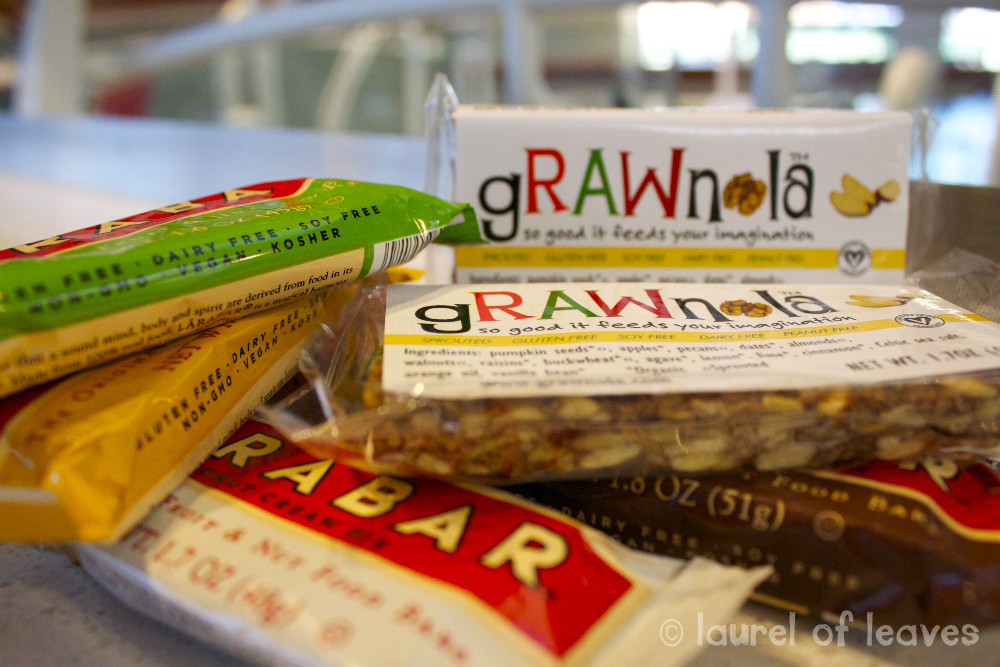 Lots of water
You can't bring your own water through airport security, but you can bring an empty bottle. Once you get on the plane, ask for the whole can or bottle of water (or more than one) and fill 'er up. Flying will dehydrate you like crazy, so drink lots of H2O to avoid jet lag, exhaustion, and hunger pangs.
Ask for healthier options
If you are on a longer flight that will serve meals, log on to the airline's website after you purchase your tickets. Often you are able to request vegetarian, kosher, or gluten-intolerant meals! My husband and I requested one kosher and one gluten-intolerant meal for each flight. We've decided that gluten-intolerant is the way to go. Otherwise you still end up with lots of processed bread and sugar. Granted, it's still airplane food. There's no getting around that. But slightly less unhealthy is better than completely unhealthy!
So far those things have kept me moving along through my travels.
Those are my tips. What are your tips for eating healthy while traveling?