It has been ridiculously snowy this winter in the South.
Case in point: I'm sitting at the table right now looking out the window at 3-4 inches of snow on the ground.
For the THIRD time this winter.
Please note that a good snow like this may only happen once each winter in the South.
Once.
Maybe.
And so much for a tender Tennessee Christmas. I actually saw my very first white Christmas this year!
And what goes so well with snow on the ground?
Crock pots in the kitchen of course!
Since we have moved out of our apartment and are currently house-sitting for some friends, I'm doing my best to use up the food I had left in my refrigerator and cabinets.
Part of that was cleaning out my freezer and realizing I had 3 whole chickens cooped up in there!
I've roasted chickens in the oven in the past, but my sister-in-law recommended trying the crock pot.
Well, mine was packed away in a box in her attic, but I was lucky enough to find one in my friend's pantry.
So in went the bird! With a host of delicious spices.
Unfortunately, most of my pictures were lost in cyberspace somewhere. Maybe they fell through the portal onto the grid and Clu snatched them up (anyone else see Tron:Legacy recently?)
But this lone shot of a chicken leg survived. Tasty sucker anyway.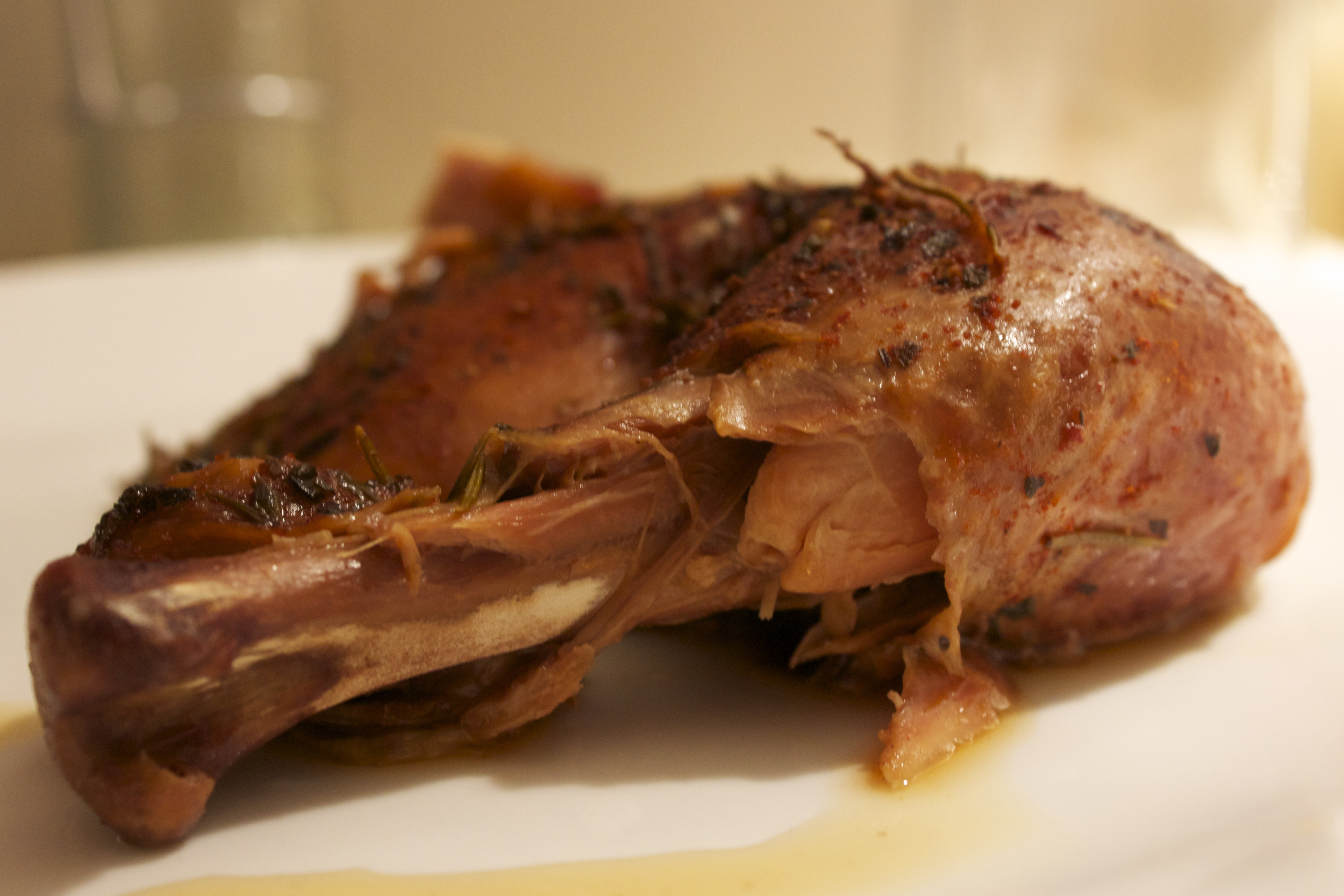 You can probably tell the meat was falling off the bone. You just had to look at it and it fell apart.
I didn't measure any of the spices exactly, but here is a close version of my recipe:
1 tsp. paprika
1 tsp. basil
1 tsp. oregano
1 tsp. rosemary
1/2 tsp. curry powder
1 tsp. sea salt
1 tsp. ground black pepper
1 onion, chopped
Rub spice mixture all over bird.
Optional: let chicken sit in the fridge for up to 24 hours before cooking.
Place bird in slow cooker with chopped onions.
Cover and cook on low all day.
The chicken will create its own juices, so there is no need to add any broth or water.
Super simple and super tasty.
Serve the meat up with cornbread and a salad for a complete meal. Then use the leftovers for chicken salad or throw them in a soup.
What is your favorite way to cook a whole chicken?
This post is linked to Mouthwatering Monday & Tempt My Tummy Tuesday