I think I missed the boat on this one.
I know October was prime time for pumpkin recipes.
But in an effort to defy social convention for once in my life (or maybe just adhere to the 'better late than never' principle), I wanted to share these incredible pumpkin bars.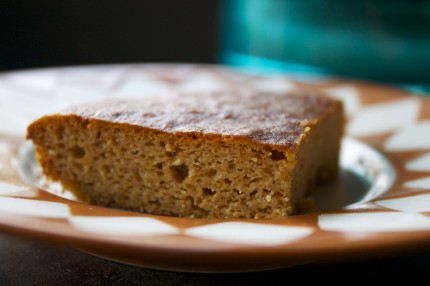 Incidentally, pumpkin is also great for your skin, due to it's high beta carotene content (the orange color also found in carrots and cantaloupe).
I adapted this recipe from Elana's Pantry. I love the simplicity of so many of her recipes!
Here's my version of these Pumpkin Cake Bars:
1/2 c. canned pumpkin
1/2 c. maple syrup
2 eggs
1 c. almond flour
1/4 tsp. sea salt
1/2 tsp. baking soda
1/4 tsp. cinnamon
1/4 tsp. nutmeg
Combine wet ingredients in a food processor or Vitamix. Add dry ingredients and blend for at least a minute or so more.
Pour  batter into a greased 8×8 baking dish.
Bake at 350 degrees for 30-35 minutes.
They are also delicious with cream cheese icing on top (as I found out after accidentally doubling the icing recipe for my Ultimate Carrot Cake).
Sidenote: I love to use substitutions whenever it's possible, but sometimes it just doesn't work out too well.
Case in point: I tried making these bars for some friends on New Year's Eve. We were out of eggs and baking soda so I thought I would try a flax substitution for the eggs and just leave out the baking soda. Definitely didn't turn out as well as I had hoped.
The major error was more than likely in the omission of the soda and not the substitution of the flax, but I would recommend sticking with the recipe above as closely as possible.
Let's not get too wild and crazy people.
What is your favorite pumpkin recipe?
This post is linked to Slightly Indulgent Tuesday